On the morning of December 14, 2012, the nation was shocked to hear that 20-year-old Adam Lanza had first murdered his mother in Newtown, Connecticut before proceeding to Sandy Hook Elementary School and, with multiple shots in each, murdered 20 children, from 6 to 8 years old, and six more teachers and administrators.
But over the next few days, we began to hear different, suspicious noises. For at least three days prior to the incident, there had been a fund-raising plea on the Internet for ". . . the victims at Sandy Hook school;" massive dollar amounts of mortgages were mysteriously paid off on December 25th, when the clerk's office at the courthouse would have been closed; Adam Lanza weighed 112 lbs. but had somehow managed to lug some thirty or more pounds of hardware and ammunition into the school before he began shooting the innocents; parents were not allowed to view and identify the remains of their dead children; the school building had been condemned and had not even held classes since 2008; the whole exercise was soon shown to have been a FEMA drill performed by recognizable "crisis actors" in multiple roles.
Furthermore, official Social Security records reflected that Adam Lanza had actually died in New Hampshire on December 13th, which seems to have been the designated day for which the drill was originally scheduled but was apparently postponed because of bad weather. Did someone forget to notify Social Security to change the date of Lanza's "death?" (The date was finally was changed five weeks later and written off as a "clerical error.")
Retired University Professor James Fetzer, now of Wisconsin, edited a book a couple of years later, Nobody Died at Sandy Hook, with 13 contributors, including six Ph.D. professors, confirming with ample evidence and thorough documentation the rumors, even including the FEMA manual for a two-day "mass casualty exercise involving children", which he included as Appendix A. Nevertheless, the First Amendment notwithstanding, Dr. Fetzer was sued in 2019 by a mysterious man by the name of Lenny Pozner, the alleged bereaved father of six-year-old Noah Pozner, who supposedly died at the school.
Fetzer and Wolfgang Halbig, a former Florida State Trooper, US Customs Agent, school principal and nationally recognized school safety expert, both doubt that "Noah Pozner" was a real person, where Fetzer has confirmed that he and other Sandy Hook children appear to be fictions created out of photographs of older children when they were younger. A new research report, Sandy Hook Memorandum for POTUS, edited by Robert David Steele and published in 2018, has further confirmed the findings of Fetzer's earlier book, which appeared in 2015 and was banned by amazon.com after less than a month, even though it had already sold nearly 500 copies. (For the unvarnished truth, see this:) Sandy Hook Collected Memoranda
In the past, I have occasionally used an on-line research website to track people that might be helpful with information to add to an investigative story on which I was working. The site asks that we only type in a name and the last known town and state in which the individual was living, and through its ability to scan county, state, court, business and address records can usually produce the correct person one is seeking. It also shows those that are deceased and the date of death. It does the same with spouses and children of the principal we have brought up.
A month ago, I contracted with the company again for no particular reason but thought it would be fun to check on old friends and relatives that had not been in touch for a few decades and to learn if they were dead or alive. After a few telephone conversations with Jim Fetzer re. his case, I decided to use it to see what I could learn about the Sandy Hook participants or victims, whichever they were. The initial results were interesting, to say the least.
First of all, neither Leonard (nor "Lenny") nor Veronique (his alleged wife) could be found anywhere. Not in Sandy Hook or Newtown, Connecticut and not in Florida (where they were supposedly being currently harassed because of repercussions from Fetzer's book) or anywhere else either. For such a high-profile person, filing lawsuits in the courts and making headlines in the news, this is more than a highly unusual result. It is a nonexistent conclusion in any other search within this website's records.
Fetzer and Wolfgang Halbig, a former Florida State Highway patrolman, school administrator and fellow challenger to the "Sandy Hoax," have concluded that first grader "Noah Pozner" may never have existed, and "Lenny Pozner" is a pseudonym for one of the crisis actors. Further research by Jim Fetzer and others has indicated more evidence of the same. Another look at pictures here will reveal the story of Michael Vabner, an older child whose younger photos were used to create the fictitious "Noah Pozner," according to astute researcher Mona Pressley. See pages  58-60: Sandy Hook Collected Memoranda
I had visited Newtown and Sandy Hook in June of 2013 and ran into nothing but stone walls. Maybe you remember Robbie Parker? He was the young father of Emilie, allegedly killed at the school. There is a YouTube video of him approaching the podium about to speak publicly, and he is laughing and smiling until he realizes he is on camera and suddenly changes expression, screws his face into that of sadness and begins his talk while poorly displaying a hold-back of fake tears. These two scenes from the video were only two or three seconds apart as Parker walked to the podium.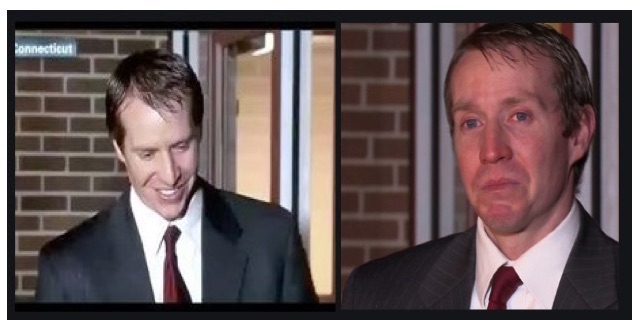 The first lines here are from the notes I saved from my June, 2013 visit to Newtown. The added information (in blue) of property purchases, no deceased children or "no record" at all, etc. were learned from my recent Internet search of current locations of the names of people used in the news as parents of victims.
Robbie Parker – 13 Country Squire Lane, Sandy Hook; 203-304-9159; when I knocked on the Parker's door, I got no answer but wondering if I might be able to catch them at home in the evening, I did ask his neighbor next door if he knew whether or not they were in town. He shut me down with an abrupt, "Oh, I can't talk about that," turned on his heel and went into the house. In 2019, Parker Purchased Single Family Residence: 2062 S 26th Ave, Ridgefield, WA 98642-9043 for $650,000.00 (#215882068)

Dean and Tricia Pinto (parents for Jack Pinto) 4 Cobblers Mill Rd, Sandy Hook, CT 06482 No record of any children being born to this couple.

Veronique and Lenny Pozner (parents for Noah Pozner) 3 Kale Davis Rd, Sandy Hook, CT 203-304-1685. NO RECORD AT ALL. However, the phone number still rings but goes unanswered.

Adam Lanza's mother: Nancy: SS# 001-56-xxxx; 36 Yogandanda, Sandy Hook, two-story Colonial with detached garage.

Jeffrey and Sandy Previdi (parents for Caroline Previdi) 4 Narragansett Trail, Sandy Hook, CT 203-364-0404. No record of Caroline being born. He works for "Caroline Previdi Foundation". She too. No birth or death record of any children.

Richard and Krista Rekos (parents for Jessica Rekos) 5 Sweetbriar Ln, Sandy Hook, CT No birth or death records for any children. Both began to work for the "Jessica Rekos Foundation" in 2019, whose address is the same as their residence. Krista moved around a lot (NY from 2001 to 2005, St. Pete, Fla. In 2005, back to NY in '06-'07, then back to Groveland, FLA and finally to Sandy Hook in 2010) prior to 2012, but Richard was in Conn all this time, suggesting from the record that they may not have been a married couple. What appears to be a mistake is the Sandy Hook residence apparently purchased in 1994 for $530,000 when they would have been only 17yrs old. ???  More likely a parent with the same name.

Joel and JoAnn Bacon (parents for Charlotte Bacon) 12 Lyrical Ln, Sandy Hook, CT 203-304-1631 HE purchased: 89 Fairview Ave, High Bridge, NJ 08829-1505 for $300,000.00 (#14-00019-0000-00041-03) in Aug. of 2012. SHE: Aug 1, 2007, First seen at Residential Address 12 Lyrical Ln, Sandy Hook, CT 06482-1613. There is no record of any child named "Charlotte" (or any other) having been born into this family. BOTH began working for Charlotte Helen Bacon foundation in 2019. With the purchase of two different homes in two different states in the same month lays a question as to whether these two were actually married.

Brian and Shannon Engel (parents for Olivia Engel) 84 Berkshire Rd, Sandy Hook, CT 203-426-6552. The computer search showed 12 adult relatives, but nothing is listed for an "Olivia" or any other children of this couple.

I do not remember why I wrote down these last three names in 2013 and cannot ascertain whether or not they were parents of any children.

Henry Witte – 75 Suzie Drive, Newtown 06472 (203-426-1193) born in 1931 with no wife or children listed.

Eugene McIntyre – 203-770-7061; 10 Shepang Rd., Newtown 06742 Search reflects no tie-in to Sandy Hook children or anything suspicious.  61 years old

Leslie Richards- 6 Homer Clark Rd. Newtown. 61 years old
The main thing to remember about the above research is that not a single child – not one – allegedly killed at the reported school shooting appears as having been a family member in any of the family searches. Some records, such as that of the Bacons above, suggest that the man and woman were never a married couple. If they were, why would he be buying a home in New Jersey the same month (Aug. of 2012 and only four months before the incident) that she is moving into a home in Sandy Hook?
Among my notes in the file drawer from my Connecticut visit in 2013 were three magazines, all from that same year and depicting three different families mourning the loss of a child at Sandy Hook. The first came out in the June issue of Guideposts, featuring a family named Hubbard, Matt and Jennifer being the parents of a first-grader named "Catherine, born June 8, 2006" says the article was written by Jennifer Hubbard. She tells of her older son, Frederick, being at the fire station when she arrived telling her that "We cannot find Catherine." The article shows a single photo of Matt and Jennifer (now both 47), thirteen pages of her large-print story but no photo of either "Frederick" or "Catherine."
However, the Internet site shows their son Matthew Walter Hubbard was born May 17, 1995, making him 17 in 2012. Daughter Ashley Jordan Hubbard was Born March 10, 1999, meaning she was thirteen in 2012 – now works at Village Royal Animal Clinic (Oct 17, 2018 – Oct 17, 2018) in Loxahatchee, Florida. Brother seems to be there too. Once again, it is highly unusual for married couples with children not to be shown at this search site with DOB as well as a death date if they are deceased.
Strangely, Matt Hubbard lives in Danbury, Jennifer in Sandy Hook today. From the search, we find this photo without names but the woman here is obviously the same as Jennifer Hubbard on the cover of Guideposts. If this photo was meant to depict "Frederick" and "Catherine," it fails because the boy appears to be about the same age or even younger. It also cannot be the Hubbard's real children, Matt Walter and Ashley Jordan because they are obviously not four years apart in age. So, what's up?
Mark, 55, and Jackie, 53, Barden (Daniel 7); First seen at Residential Address 35 Paugussett Rd, Sandy Hook, CT 06482-1503. Spent earlier married years in Fla., Nashville, Tenn. And NY. James, 12 and Natalie, 9 are pictured in People Mag. with parents but in the computer search we find no record of them ever being born, something the records searches show for almost every other family not related to the Sandy Hook case.  The People article shows eight pictures but none of Daniel in a family photo.
On page 54 of the December 2013 issue of AARP magazine has a sad and touching story about several of the grandparents of victims, entitled "A Grief Like No Other." However, of the four photos shown of the grandparents, none shows them with the grandchild they are mourning. The caption next to the photo of "Charlotte" Bacon's grandparents says, "6-year-old Charlotte reveled playing with their dog," and there is their dog relaxing on the floor between the seated grandparents, but no Charlotte.
Finally, here is more from Jim Fetzer following the judgment against him of $450,000 awarded to "Lenny Pozner" without the benefit of a jury as mandated by the 7th Amendment to the U. S. Constitution (Bill of Rights): YOU PROBABLY DON'T HAVE A CLUE TO THE TRUTH OF THE FEMA OPERATION AT THE SANDY HOOK SCHOOL IN 2012 ~ THIS SHOULD HELP.
Please follow and like us: