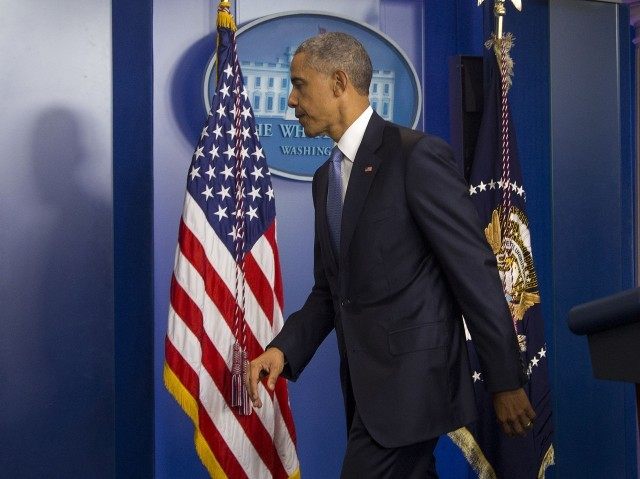 Levin called Obama's effort "police state" tactics, and suggested that Obama's actions, rather than conspiracy theories about alleged Russian interference in the presidential election to help Trump, should be the target of congressional investigation.
Drawing on sources including the
New York Times
and the
Washington Post
, Levin described the case against Obama so far, based on what is already publicly known. The following is an expanded version of that case, including events that Levin did not mention specifically but are important to the overall timeline.
Editor's note: An Obama spokesman has denied that Obama every ordered the surveillance of any American citizen, which cannot be correct, given the submissions to the FISA Court. This qualifies as an enormous (uncharacteristic) blunder on the part of Barack Obama:
Editor's note: Even Rush Limbaugh has nailed the efforts by Obama and his cohorts to bring down the Trump administration, which is an act of treason for which he deserves to be prosecuted to the full extent of the law:
9. February: Times claims extensive Russian contacts.

The

New York Times cites

"four current and former American officials" in reporting that the Trump campaign had "repeated contacts with senior Russian intelligence officials. The Trump campaign denies the claims — and the

Times

admits that there is "no evidence" of coordination between the campaign and the Russians. The White House and some congressional Republicans begin to raise questions about illegal intelligence leaks.

10. March: the Washington Post targets Jeff Sessions.

The

Washington Postreports

that Attorney General Jeff Sessions had contact twice with the Russian ambassador during the campaign — once at a Heritage Foundation event and once at a meeting in Sessions's Senate office. The

Post

suggests that the two meetings contradict Sessions's testimony at his confirmation hearings that he had no contacts with the Russians, though in context (not presented by the

Post

) it was clear he meant in his capacity as a campaign surrogate, and that he was responding to claims in the "dossier" of ongoing contacts. The

New York Times

, in

covering

the story, adds that the Obama White House "rushed to preserve" intelligence related to alleged Russian links with the Trump campaign. By "preserve" it really means "disseminate": officials spread evidence throughout other government agencies "to leave a clear trail of intelligence for government investigators" and perhaps the media as well.
In summary: the Obama administration sought, and eventually obtained, authorization to eavesdrop on the Trump campaign; continued monitoring the Trump team even when no evidence of wrongdoing was found; then relaxed the NSA rules to allow evidence to be shared widely within the government, virtually ensuring that the information, including the conversations of private citizens, would be leaked to the media.
Levin called the effort a "silent coup" by the Obama administration and demanded that it be investigated.
In addition, Levin castigated Republicans in Congress for focusing their attention on Trump and Attorney General Sessions rather than Obama.
Please follow and like us: